Swallowtail Oddities
This is a list of things that are peculiar about Swallowtail Rabbits.
If there are errors, omissions, or clarifications, send them to me! Also, I would like to post pictures of anything that needs further explanation. Please send pictures and comments to: Dan@swallowtail.info. Thanks!
Oddities:
1. swallow tail (DUH!)


2. early hood (smoothie. Notice no body line along the front edge of the hood where the arrow points.)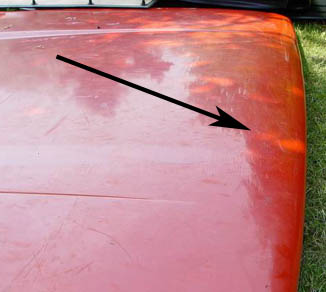 3. chrome parts (mirrors, bumpers, moldings)
(Chrome parts lasted several years, and were on sciroccos as well)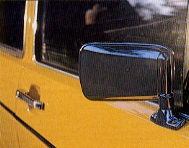 4. optional headrests (extremely early cars)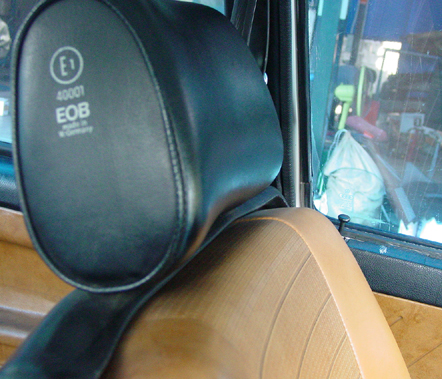 5. foam block under hood (this only came on VEEEERY early cars. THese never made it to the US market)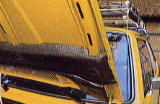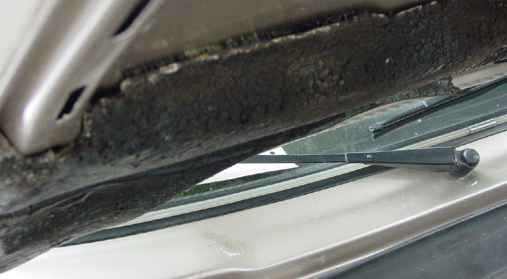 6. clear rear windshield
7. antenna on the a-pillar (not sure whether this is normal)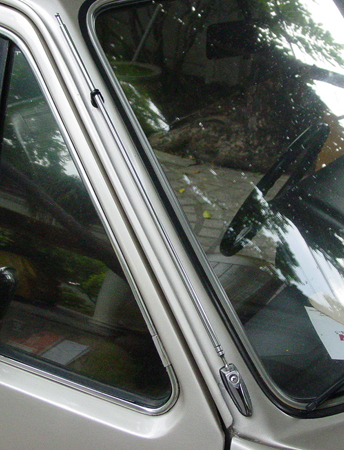 7. early style grill (no headlight surrounds)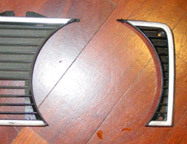 8. rear hatch vents
9. steering rack and column
(The solid rack mounts lasted into '76 after they changed the rear panel to the later style.)
Old style rack mount: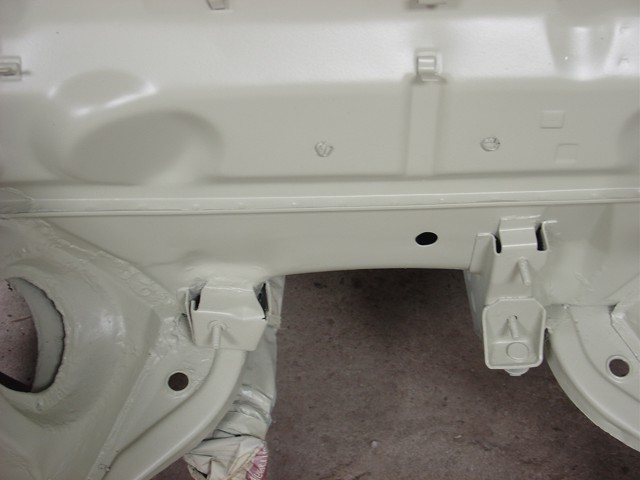 New Style rack mount: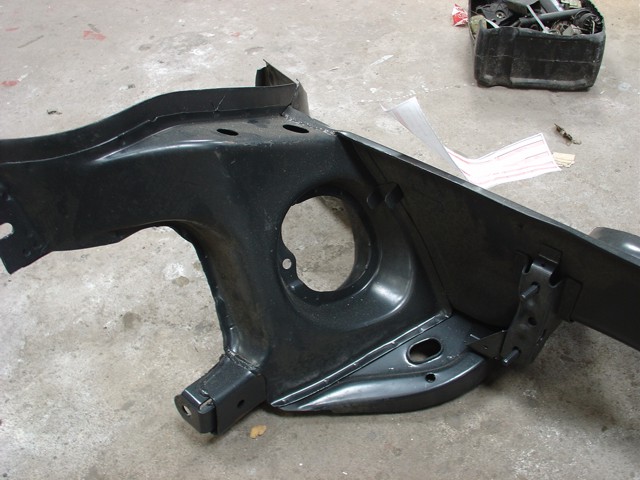 10. heater box*
11. fuel tank (sender on side of tank)*
12. clear glass everywhere*
13. brake lines run inside the car instead of outside
14. fresh air side vents run directly through rain tray
15. 1.5l engine had square starter (square starter only on very early cars but starter on 75's is slightly different) and an unusual 4 speed only available in '74/'75
16. oh $hit handles similar to Beetles
17. Beetle fabric on seats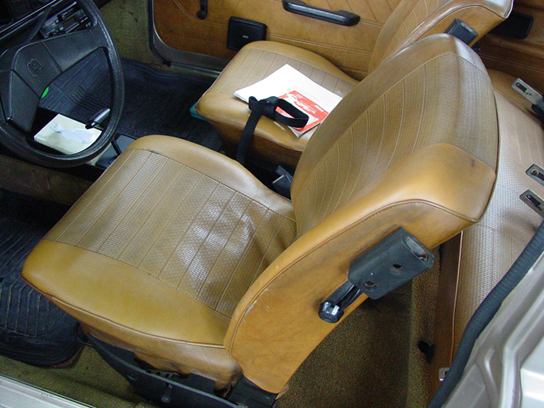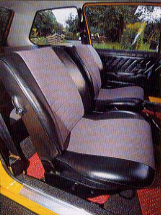 18. Shorty rain tray cover
19. Gray kick panels instead of black
20. Rear parcel cover has a big X underneath for support
21. '74/'75 badges are reversed. Golf/Rabbit is on the left instead of right on hatch.*
22. Beetle type seatbelts
23. shifter linkage totally different.
Click the following image for a detailed VIN break down and exploded diagram of the three different types of shifter linkages available in Swallowtails!



24. Proportion valve mounted on rear axle*
25 Metal wiper and indicator handles
26 Small door catch/lock
27 Way early 74's had no Volkswagen logo
28 Volkswagen and Golf logo are metal and in italics
29 No gear layout on shiftknob but on ashtray (Automatics have a different layout, also in same location)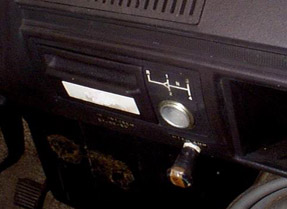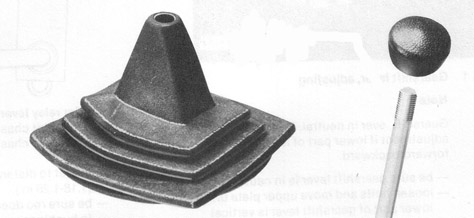 30 2 speed fan switch (VERY early cars)
31 Way early 74's had exhaust tip in 'S' bend style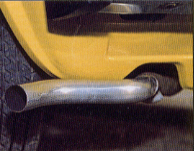 32 Doorcards have diagonal lines (The speakers in the card below are NOT stock. Also note that the armrest style door pull indicated a "deluxe" rabbit, as the base models had diagonal pulls).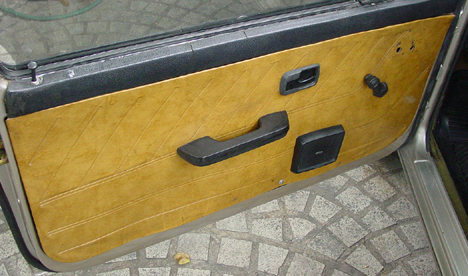 33 Way early 74's had different sliding/bracket seat system
34 Drum brakes up front!!!
(possibly only early euro base model cars from '74 were the only ones with drum front brakes)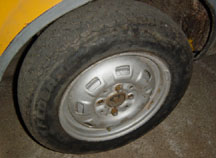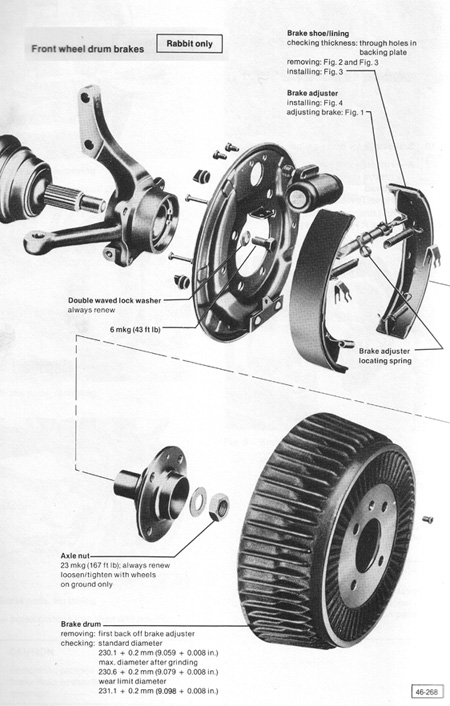 35 rear hatch stay base welded to body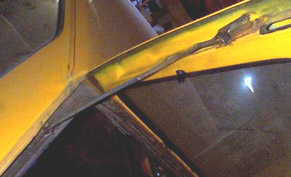 36 fabric boot mat
37 boot cover separate from seat
38 rear seat different frame and card plastic riveted to frame, also different mounting to body
38 front seats beetle style sprung seats
39 no reinforcement side-to-side under instrument panel (just a "yoke" to hold the steering column)
40 no reinforcement on front tunnel
41 different shape in raintray (it is smaller)
42 complete heater assembly different
43 belt locks mounted to body sitting on a strong cablel ike neck
44 tow hooks mounted to bumpers
45 handbrake cables fitted to top of lever (incl. different cover)
46 carpet fully formed including wheel-well/a-post part
47 rubber carpet standard equipment on base cars (Caddy style)
48 rear wheel-well plastic covers different shape
49 <deleted>
50 fuel vent tubes running through frame
51 no location points for rear belts on body <-This is NOT true. Possibly for VERY early cars, but I don't think so.
52 different door hinges (these early style made it past "swallowtails" but differ from later cars.)
53 column-stalks mounted with 4 bolts to ignition lock
54. Oil pan bolts up to the engine using allen bolts
55. Timing belt cover open on the side.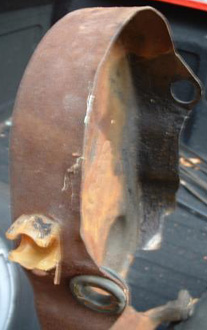 56. Valve cover bolts down on head using bolts.
57. Valve cover has holes on side and uses a different valve cover gasket.

58. Little cover plates on rear hatch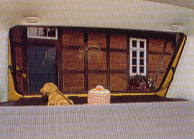 59. Hand welded alternator bracket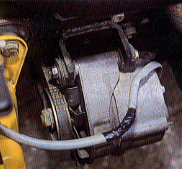 60. Manual exterior Hood release
(This is not actually unique to swallowtails, and ran up through 1979. Additionally, not all Swallowtails had this.
The base models got it, but the deluxe cars got hood releases. I include it on the site because it is a weirdness.)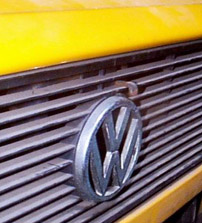 61. Apparently a lot of the early cars didn't have fan motors at all!
62. Aluminum Door Sills! (From Claus Von Essen)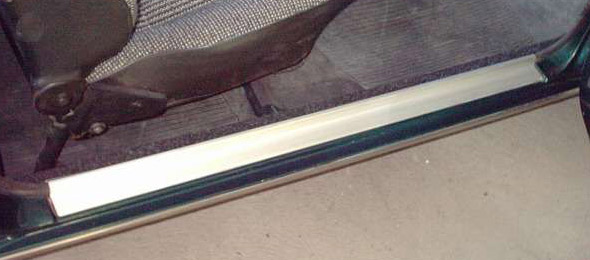 63. Here's a REALLY rare one. According to Claus, this is a plastic box formed for the rabbit boot. Unknown origin, may be from german Police or just a Votex dealer option!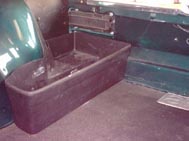 64. Here's another neat one. This is a base model manual (foot operated) washer pump! Thanks, Claus!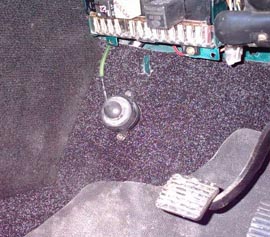 65. This is not necessarily a Swallowtail part, but cool anyway. This is on Claus' car and is a "German mail car protective cover for the boot. Made from stainless."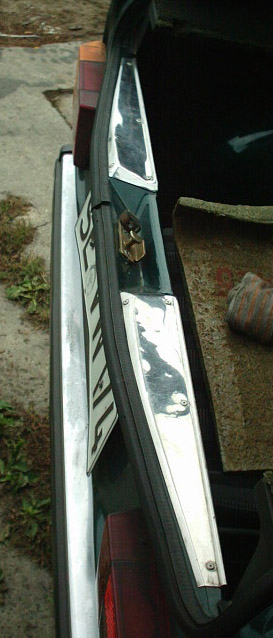 66.) Dean Dawes wrote in and said that the very early headlight manufacturers may have been different. This might have varied even among different years, but early OEM headlights appear to be Hella, and were switched to Bosch later (or possibly vice versa). If anyone has definite info, lemme know.