Carlitos' Swallowtail
This Swallowtail was recently sold on Ebay to Carlitos. The writeup is included below, along with picture I stole from the listing. A VERY clean 4 door.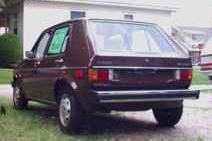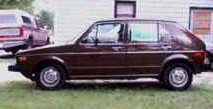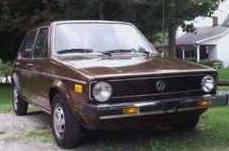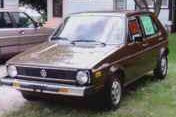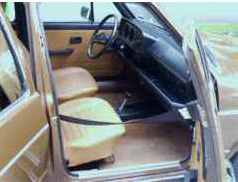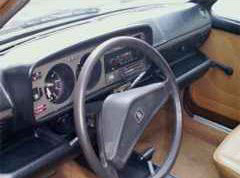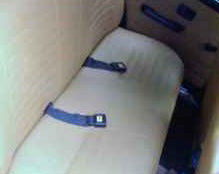 76 Rabbit, 45,700 original miles. Super Condition. Collectable or show or drive every day. Automatic, Factory Air Conditioning. Original am radio. Original tires. 99 percent original. (Nothing altered or changed.)
Purchased in a estate sale. Older gentleman passed away, and car was kept inside. Lady hardly, if ever drove it. It still smells like a new car.
This car could be driven daily or with minor detailing be shown, a definate collectable VW.
I HAVE THE ORIGINAL OWNERS MANUAL AND MAINTENANCE BOOK. THEY ARE IN SUPER CONDITION!!!
I ALSO NOTICED A STICKER THAT CAME ON THE VW FROM THE FACTORY. IT IS ON THE FRONT WINDSHIELD, DRIVERS SIDE, BOTTOM.
IT STATES: "PLEASE OBSERVE THE RUNNING IN RESTRICTIONS" THIS IS STATED IN FIVE DIFFERENT LANGUAGES.
Vehicle has NO cracks in the dash. NO tears in the seats. Carpet has no tears or stains. Interior is in near perfect condition. No tears or stains in the headliner. Exterior has a good shiny original paint. one small dent in the rear hatch.
Taken to a VW mechanic, and he could not believe the car. He installed a master cylinder, and cleaned the carburator out. New plugs, and filter.
window trim on exterior needs replaced, leaks slightly, and muffler has a leak. THE ENGINE AND CAR RUN SUPER . A REALLY NICE, RABBIT

the rabbit is Gas fuel. It is automatic. The A/C works, but does need recharged. The tires are the original tires that came on the car, for a collector this is good, but to drive it every day, you would need to replace the tires. (they are small and would be inexpensive for their size)
My neighbor who helped me tune the car, told me that I should keep the car, because it runs so good, and is so nice, but I have three kids, and a wife, and my son is 6'3" tall and my wife wont give up the front seat position so we plan on getting a van or something.
There is ZERO rust on the exterior, and No rust to speak of underneath. Meaning only minor surface rust, in a few places underneath.

The miles on the car is documented up to 25,000. After that I have no documentation that was given me, BUT WHEN YOU SEE THE CAR, ITS VERY EASY TO TELL THAT IT IS THE ORIGINAL MILES AND SUPER NICE.
This car sold for 2000.00