Jim Freeman's Swallowtail

Jim Freeman
17615 N 25th Pl
Phoenix, AZ 85032
USA
VWVortex User ID: angusmf
1975 Sunroof, probably whatever was the highest trim level based on what was
left of the orginal parts from the car. VIN 1753316827. Currently a basket
case. Won't be restored 100% correct, but keeping as much sheetmetal intact
as possible, storing as many original parts as possible (or selling/trading
to other Swallowtail owners), and will probably be repainting to the
original blue.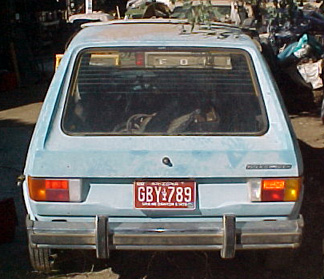 Parts missing, damaged, or non-correct:
-Chrome window mouldings
-side mouldings
-driver's side door
-seats
-door and rear quarter cards
-sunroof
-parcel shelves and tray
-wiper and turn signal switches
-instrument cluster
-fenders
-headliner
-seat belts
-engine
-taillights
-wiring
-stickers
-entire suspension
Swallowtail parts not being used or spares:
-transmission & starter
-rear quarter panel cards
-somewhat rusty and dented original fenders
-passenger side door (unless I find correct driver's door soon)
-original style chrome door handles
For more pictures of this beautiful Rabbit, visit Jim at his website:
http://carhole.com/Rabbit/gallery.html