Stijn Konings' Swallowtails

Stijn Konings
VWVortex User ID: 'Cavok'
The Netherlands
stijn_konings@hotmail.com
Website: http://home.planet.nl/~koni1691/


1975 Golf (with 'extra' kit)
VIN 1753449801
Built: June 1975
First Reg.: Oct 1975
Body: 2 door
Engine: 1.1 liter 50hp, code FA
Color: Marinogelb L20A
Interior: Black 'cube' design vinyl
Interesting: Front drum brakes still remaining, solid hatch stand, oldstyle steelies.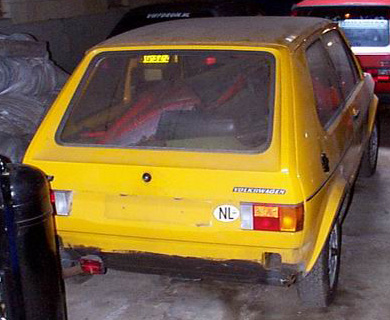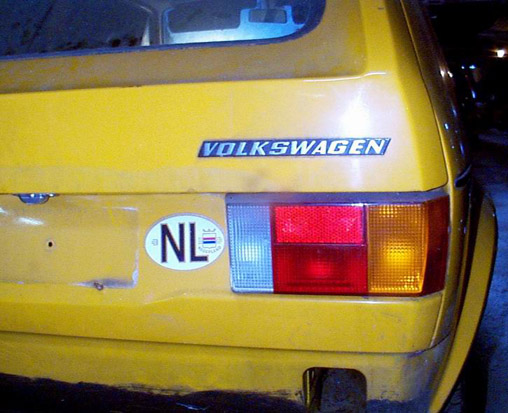 1974 Golf LS
VIN 1753060509
Built: August 1974
First Reg.: September 27th, 1974
Plate (Dutch): 87-DU-56
Body: 2 door
Engine: 1.5 liter 70hp
Color: Brilliantgelb L11C
Interior: Black leatherette/grey cloth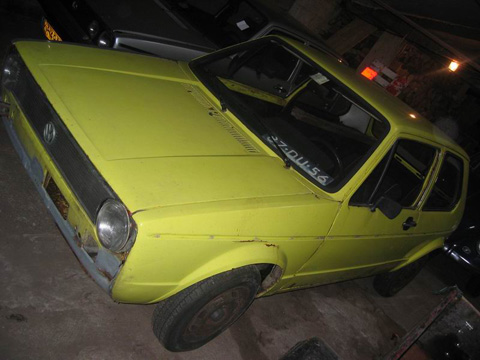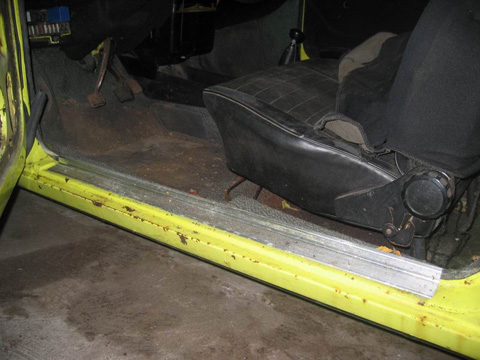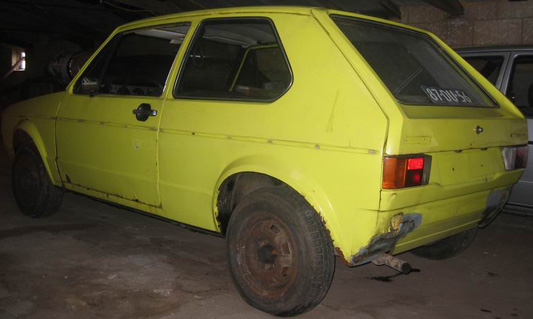 And here is TWO MORE! (December 19th, 2004)
I got myself another TWO swallowtails! That makes four total (hey, if I see one I get it, these babies are too rare to pass up, right?). I don't have all the info yet, but here is some first info:

The first one is another september 1974 Golf LS. The tag was issued only days after my other '74 Golf LS (this one is 88-DU-01, my yellow one has tag 87-DU-56). It's in remarkable condition with virtually zero welding done by previous owners. 128k kilometers on the clock. Has some rust but nothing major, ready for use!!! Incredible huh? The engine is still original, so is te gearbox. Has just about ALL the cool parts (including metal doorsteps, zippo lighter, foam block, shorty raintray etc etc...only thing it misses is the smooth hood (which I still have one in stock). I'll give you the full info (including VIN etc) when I pick up the car in January.

1974 Golf LS
VIN 175 306 0366
Built: September 12th, 1974
First Reg.: September 27th, 1974 (exact same day as my yellow '74!)
Body: 2 door
Engine: 1.5 liter 70hp
Color: Senegalrot L31A
Interior: Grey cloth/leatherette
Interesting: Full history. Had a photo feature in a carmagazine years ago,
being one of the oldest Golfs in the country.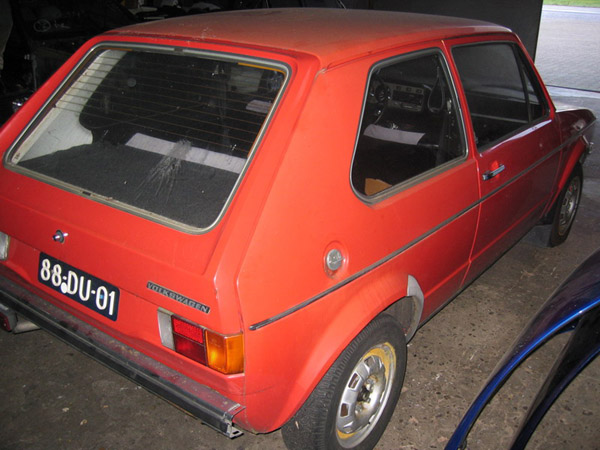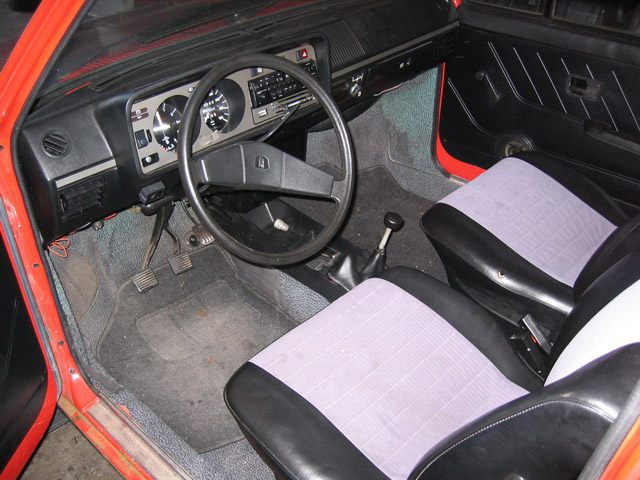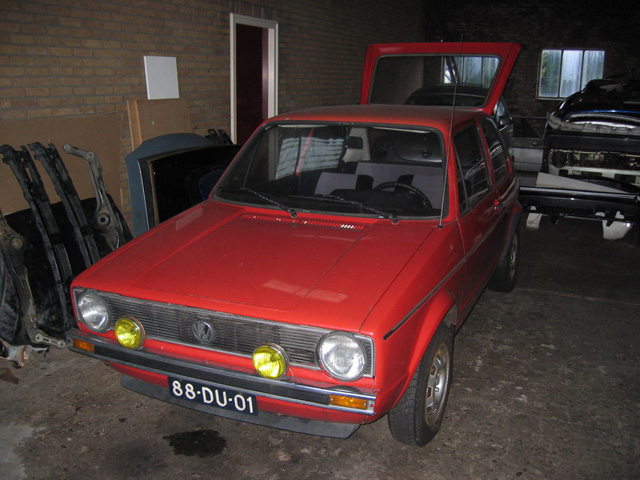 The second one is a march 1975. It's a Golf S automatic. It was cheap but it's in terrible condition. Very bad body, lots of crappy welding done. Most interesting parts are gone, but it does still have the original engine.
Info:

1975 Golf S Automatic
VIN 175 332 9087
Built: March 1975
First Reg.: April 1975
Body: 2 door
Engine: 1.5 liter 70hp
Color: Marinogelb L20A
Interior: Green leatherette
Interesting: bi-fuel (petrol/gas)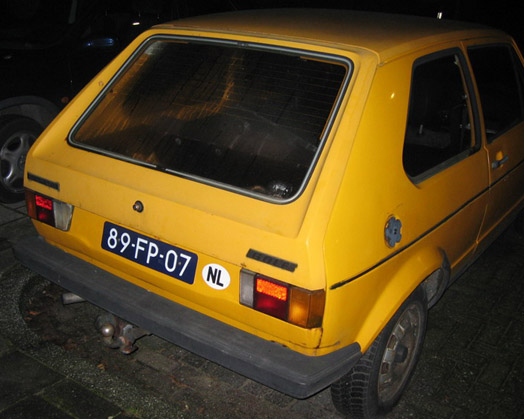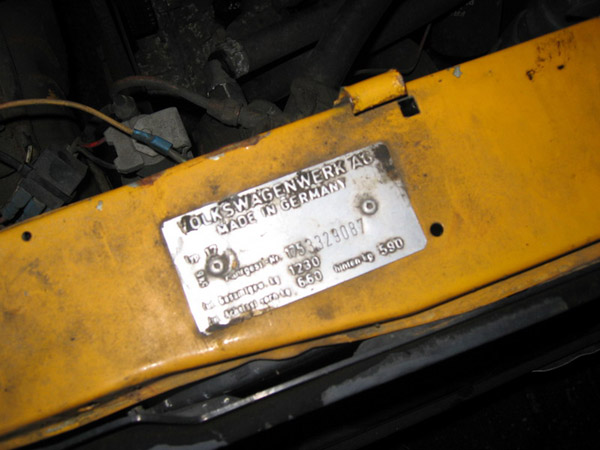 And here is a little bonus from Stijn!
"I wanted to share this little bit of history with you guys. Below is a pic taken back in1980 of my girlfriend, Suzanne, then 1 year old. She's in the driversseat of her dad's 1974 Golf.....check out the colour (vipergreen?) and the optional kneebar. Also the oldschool winddeflectors and '74 only half vinyl/half cloth seats are megacool. Found this in an old photoalbum."